Stylish bride can break the norms. How to easily create unforgettable, elegant and Magical bridal look!! 
Wedding is such special moment of life and every bride dream of looking like a beautiful diva like no one have ever seen before. A girl's one of the biggest dreams is to look most beautiful on her wedding day. This can be achieved by a perfect wedding dress, but also, she needs to have the right accessories, hairstyle and make-up. By following few simple steps, she definitely can be a stunning bride just like in her dreams!
It gives us immense pleasure to work as wedding designers and customize designs which are beautifully handcrafted and provide joyful experiences to our clients. We take every little details precisely because Designerdreamcollection not only design the outfit we design dreams.
Things we suggest and keep in mind while designing bridal outfit and jewelry:
What we bring to the table is masterpieces that are desired by every stylish bride around the world. you can be wonderful and beautiful bride he has ever seen, when you become his wife! When you finally walk down the aisle, tears of joy will be warming up his eyes.
While playing with trends how to be True to yourself
Every person has personal style, Unique personality, and different body type, and I would like to start by looking into every little detail and trait of bride's personality then suggest trends which would suit the bride's taste and make them feel as desired. It's great idea to break the norms and try out different styles before making final decision it's also important to stay true to yourself. Selecting Trendy Outfit for special Moment of life is not great idea because it might make bride feeling unhappy and create the look that is not desired. For example, while classic white lace bridal gowns are hugely popular right now, they might not suit everybody."
Fashion tells a story and every story is unique. Each approach has its charm and value.
Professional ideas on How to pair unique jewelry pearls, Rubies and Emerald for every bridal outfit to create unique looks.
Every kind of jewelry is beautiful but we definitely need something unique for special occasions that is glamorous, unique and goes with the theme yet brings the best out of bride's personality. There is something beautiful about intricate jewelry, when it comes to your wedding jewelry be fearless and don't hesitate to add some colors and yes pearls are definitely in, for the stylish bride
If you love statement jewelry but are unsure of how to best use them as wedding jewelry, here are some ideas to get you started!
Unique Hair accessory: pick something super chic and minimal for your special day to create your dream wedding look like tiara, crystallized custom-made unique hair pins or some pearl drop hair accessories.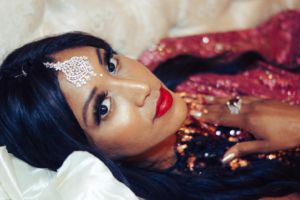 Stylish Hand Accessories: pick some unique hand accessories like pearl embroidered chic gloves and bracelet, get your names or some special dates engraved on your customized bracelet for a regal and meaningful look.
Statement Choker: For a unique look, think out of the box and opt for a neckpiece that has some personal touch emerald or ruby chocker are great choice to break the monotony or renovate meaningful necklace that is passed down by generations to generations.
Pick right pair of shoes: it is extremely essential to pick comfortable yet gorgeous shoes to complete the look. Combination of Comfort and style is important factor to keep in mind to feel relaxed on your special day, last but not least do not hesitate to pick gem studded or get customized embroidered shoes to add the right amount of dazzle for your special day!!!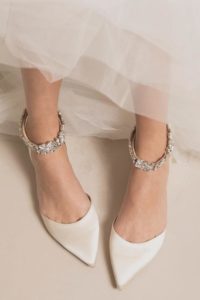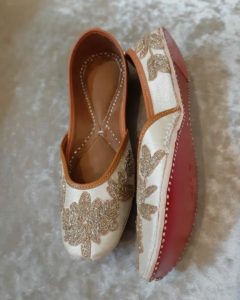 Hope you enjoyed reading.
Written By: Anjali Phougat (Founder of designerdreamcollection)